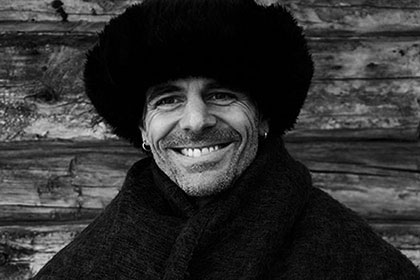 Artist, improviser, natural philosopher,
speaker, curator, facilitator
_Master in Fine Arts Practice and Performance, Glasgow School of Arts
_Diploma of Applied Permaculture Design
His work, in his various roles, reflects an immersion in both Eastern philosophy and nature.
Besides engaging in the creative process in various artforms, Lars has curated interdisciplinary projects linking the arts and improvisation with ecological and spiritual understanding, and facilitated workshops in the US, Latin America and Europe.
After initiating and facilitating the Art, Ecology & Education Project in 2006 in Berlin, in 2010 he conceived The Natural Circus (2010-2018) as a life-art project, that might be best described as a pilgrimage and form of resistance.
Regarding art as a way of coming-to-knowing, his Master of Fine Arts thesis was called The Arts in Service: On Learning to Live and to Die, Improvisation as Way of Being and Ecological Practice.
Lars is a member of the International Ecoart Network.
Formative years in New York City and Berlin.
Background and studies in performing and fine arts, dance and somatics, photography, film, ecology, ecophilosophy and anthropology.
As artist he works with different medias.
Besides his work as visual artist, he explores the phenomenon and the power of sound with electronic, electro-acoustic and acoustic instruments, field-recordings and objects, experimenting and improvising at the margins of music and sonic landscapes.
In dance and bodywork his path led from classical and modern dance training to post modern dance forms like Contact Improvisation and Butoh, as well as to the inquiry of a variety of somatic practices, Body Mind Centering and Tango – using cultural centers like New York, Berlin and Buenos Aires as source of inspiration and input.
He has worked internationally as actor for film and TV, as acting coach and director.
His main acting teacher and mentor was Susan Batson, for whom he worked as longtime assistant and as acting instructor.
Other actors and teachers he had the pleasure to be studying with are Marcia Haufrecht and Elisabeth Kemp. All of his former teachers are life-time members of The Actors Studio in New York and have been faculty of the New School of Social Research NY.
He has lived, worked, and learned on organic farms and with shepherds in France, Italy and Norway, engaged in Transition Town Trainings in Totnes/UK, as well as Deep Ecology Work with Joanna Macy, and holds a diploma of Applied Permaculture Design.
As facilitator and counselor he provides space for 'learning to listen deeply', integrating somatic and contemplative practices, as well as nature awareness work. (www.contemplative-arts.org)
As creative consultant he gives feedback to projects and organizations that intend to facilitate and support regenerative culture, drawing from a rich and diverse background of knowledge and experience.